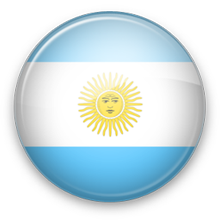 ARGENTINA
POPULATION: 42,7 MLN

SOURCE:
ASOCIACION DE CONCESIONARIOS DE AUTOMOTORES ARGENTINA (ACARA.ORG.AR)
Immatricolazioni

Fiat, Alfa Romeo, Jeep

in

ARGENTINA
---
Registrations

Fiat, Alfa Romeo, Jeep in ARGENTINA
---
Il mercato dell'auto argentino nel 2017 è risultato in aumento del 26,9% a 888.839 unità, quasi sui massimi degli ultimi 10 anni. Volkswagen ha guidato il mercato nel 2017 con 144.533 vetture vendute (+33,3%), seguita da Chevrolet, Renault e Ford.
Fiat Chrysler Automobiles è presente in Argentina ufficialmente come Fiat dal 1919 ed ha inaugurato il suo primo impianto produttivo locale nel 1960 stabilendo così una forte tradizione nel Paese. Nel 2017 ha occupato il quinto posto tra i costruttori con una quota di mercato superiore all'11%, immatricolando 94.357 auto a marchio Fiat (+27,6%), 8.772 Jeep e 416 Alfa Romeo.
Con l'eccezione di pochi modelli come la Fiat 500 (importata dal Messico), i modelli Jeep più costosi (dagli USA) e l'intera gamma Alfa (che viene dall'Italia) quasi la totalità dei veicoli venduti da FCA in Argentina sono prodotti localmente o negli stabilimenti brasiliani del Gruppo (Fiat e Jeep). Facendo entrambi parte del MERCOSUR, Brasile ed Argentina reciprocamente non applicano tasse d'importazione tra i due Paesi, considerandoli di fatto prodotti locali.
L'anno scorso tra i vari modelli FCA venduti in Argentina buon successo per la "brasiliana" Jeep Renegade, la Fiat Argo, la Fiat Mobi e la Fiat Toro. Grande attesa per il debutto della Fiat Cronos, previsto per febbraio 2018, prodotta nello stabilmento locale di Cordoba.
Sales of Argentine cars were up 26.9% in 2017 to 888,839 units, almost at the highest levels of the last 10 years. Volkswagen led the market in 2017 with 144,533 cars sold (+33.3%), followed by Chevrolet, Renault and Ford.
Fiat Chrysler Automobiles is officially present in Argentina as Fiat since 1919, with his first production plant being inaugurated in 1960 and has a very strong tradition in the country. In 2017 occupied the fifth place among manufacturers with a market share over 11%, registering 94,357 Fiat branded units (+27.6%), 8,772 Jeep and 416 Alfa Romeo.
With the exception of few models like the Fiat 500 (imported from Mexico), the most highend Jeeps (from the USA) and the whole Alfa lineup (which is produced in Italy) almost the entirety of the FCA units sold in Argentina are produced locally or in the group's Brazilian plants (Fiat and Jeep). Being Brazil and Argentina both part of MERCOSUR, they do not apply import fees to each other.
Among FCA's models sold in Argentina, in 2017 the most successful have been the "brazilian" Jeep Renegade, then Fiat Argo, Fiat Mobi and Fiat Toro. The Group has great expectations for the new Fiat Cronos, locally made in the Fiat plant in Cordoba, due to debut in February of 2018.