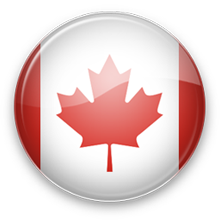 CANADA
POPULATION: 35,4 MLN

SOURCE:
CHRYSLER GROUP MEDIA WEBSITE (MEDIA.CHRYSLER.COM)
Immatricolazioni

FCA, Fiat, Alfa Romeo

in

CANADA
---
Registrations

FCA, Fiat, Alfa Romeo

in

CANADA
---
Il mercato automobilistico in Canada è cresciuto ancora nel 2017 ed è ora sui massimi a 2.038.798 unità immatricolate.

Il Gruppo Fiat Chrysler (con 267.052 auto vendute nel 2017) ha perso la leadership in Canada in favore di Ford (che ha guidato le vendite con 308.474 unità immatricolate) e General Motors (302.826).

In Canada FCA produce anche alcuni modelli Chrysler e Dodge in due stabilimenti (a Brampton e Windsor). Il marchio Fiat dopo aver perso il 31% nel 2015 ed il 57% nel 2016, si è stabilizzato.

Tra i modelli più venduti dal marchio Jeep in Canada, ottimi risultati per il Ram Pick-up, la Compass e la Grand Cherokee.
The automotive market in Canada is still grew in 2017 and is now on maximum to 2,038,798 units registered.
The Fiat Chrysler Group (with 267,052 cars sold in 2017) has lost its leadership in Canada in favor of Ford (who leads sales with 308,474 units registered) and General Motors (302,826).
In Canada FCA also produces some Chrysler and Dodge models in two plants (in Brampton and Windsor). The Fiat brand after losing 31% in 2015 and 57% in 2016 it has stabilized.
Among the best-selling models from Jeep in Canada, excellent results for the Ram Pick-up, Compass and Grand Cherokee.