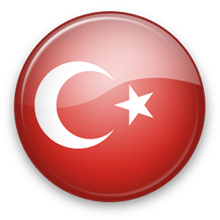 TURKEY
POPULATION: 77,6 MLN

SOURCE:
OTOMOTIV DISTRIBUTORLERI DERNEGI (ODD.ORG.TR)
Immatricolazioni

Fiat, Fiat Lcv, Lancia, Alfa Romeo

in

TURCHIA
---
Registrations

Fiat, Fiat Lcv, Lancia, Alfa Romeo

in

TURKEY
---
La Turchia sta diventando uno dei più importanti hub del settore auto a livello mondiale. Per la sua posizione strategica, è un mercato chiave per i produttori che cercano di espandere il proprio business in Europa con bassi costi di manodopera.

Nel 2017 il mercato auto turco è calato del 4,5% a 722.759 unità immatricolate. Tra i costruttori di veicoli passeggeri è risultato in testa l'anno scorso il marchio Renault, seguito da Volkswagen e Hyundai.

Fiat ha immatricolato nel 2017 in Turchia 61.364 veicoli passeggeri (+17,2%) e 58.685 veicoli commerciali (+9,2%), con una quota di mercato negli LCV del 25,14%. La Fiat Egea (in Europa Fiat Tipo) costruita in loco è stata il modello più venduto in Turchia anche nel 2017 con 47.704 unità immatricolate.
Turkey is becoming one of the major hubs of the world's auto industry. Due to its strategic location, it is a key market for manufacturers seeking to expand their business in Europe with low labor costs.
In 2017, the Turkish car market fell by 4.5% to 722,759 units registered. Among passenger vehicle manufacturers resulted in the lead last year the Renault brand, followed by Volkswagen and Hyundai.
Fiat has registered in 2017 in Turkey 61,364 passenger vehicles (+17.2%) and 58,685 commercial vehicles (+9,2%), with a market share of 25.14% in the LCV. Fiat Egea (in Europe Fiat Tipo) built on site has been the best selling model in Turkey also in 2017 with 47,704 units registered.