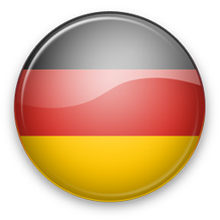 GERMANY
POPULATION: 80,7 MLN

SOURCE:
KRAFTFAHRT BUNDESAMT (KBA.DE)
Immatricolazioni

Fiat, Alfa Romeo, Jeep

in

GERMANIA
---
Registrations

Fiat, Alfa Romeo, Jeep

in

GERMANY
---
La Germania è il Paese ai vertici del mercato automobilistico europeo, nel 2017 sono state immatricolate ben 3.441.262 autovetture, facendo registrare una crescita del 2,7% sull'anno precedente.
Grazie ad una forte domanda di privati ed autonoleggio, molte case automobilistiche vendono una grande quantità di automobili in Germania. Ciò vale in particolare per le case locali, come Volkswagen Group, che controlla circa il 40% del mercato, seguita da lontano da Mercedes, Bmw, Ford e Opel.
La quota di mercato del Gruppo Fiat Chrysler Automobiles in Germania è ancora molto bassa, al 3% nel 2017. Da segnalare il rialzo del 42% di Alfa Romeo con una Stelvio che negli ultimi mesi ha trainato le vendite; bene anche il marchio Fiat (+9,0%) spinta anche dal successo della Fiat Tipo.
Germany is the country leader to the European automotive market, in 2017 were registered 3,441,262 vehicles, recording growth of 2.7% over the previous year.
Thanks to a strong private and car rentals and company demand, many automakers sell a large amount of cars in Germany. This applies in particular for local carmakers such as Volkswagen Group, which controls about 40% of the market, followed distantly by Mercedes, Bmw, Ford and Opel.
The market share of Fiat Chrysler Automobiles Group in Germany is still very low, at 3% in 2017. To note the rise of 42% of Alfa Romeo with the Stelvio that in the last months of the year was driven primarily by increased sales; well even the brand Fiat (+ 9.0%) also driven by the success of the Fiat Tipo.