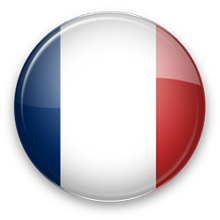 FRANCE
POPULATION: 66,0 MLN

SOURCE:
COMITE' DES CONSTRUCTEURS FRANCAIS D'AUTOMOBILES (CCFA.FR)
Immatricolazioni

Fiat, Lancia, Alfa Romeo, Jeep

in

FRANCIA
---
Registrations

Fiat, Lancia, Alfa Romeo, Jeep

in

FRANCE
---
Nel

2017 le vendite di autovetture sono cresciute in Francia del 4,7% a 2.110.751 unità, con le due case automobilistiche locali Renault (con Dacia) e Peugeot-Citroen che insieme hanno contato per più del 50% del mercato auto francese.

Il Gruppo Fiat Chrysler Automobiles ha visto nel 2017 in buon progresso il marchio Fiat, salito del 9,0% sul 2016, Alfa Romeo grazie all'ingresso di Giulia e Stelvio (+25,6%) e Jeep (+9,1%) spinta dalle vendite del Renegade e della Compass. Lancia è ormai scomparsa dal mercato francese.

Gran parte delle vendite FCA in Francia sono rappresentate dalla Fiat 500 (con 20.409 unità immatricolate nel 2017, +1% sull'anno precedente), buone prestazioni anche per la Fiat Tipo entrata stabilmente nei primi 5 modelli più venduti dal Gruppo.
In 2017, passenger car sales in France were up by 4.7% to 2,110,751 units, with two local carmakers Renault (Dacia) and Peugeot-Citroen, which together accounted for over 50% of the French car market.
The Fiat Chrysler Automobiles Group has seen good progress in 2017 in the Fiat brand, rose by 9.0% on 2016, Alfa Romeo thanks to the entry of Giulia and Stelvio (+25.6%) and Jeep (+9.1%) driven from sales of the Renegade and Compass. Lancia has now disappeared from French market.
Much of the FCA sales in France are represented by the Fiat 500 (with 20,409 units registered in 2017, +1% year on year), good performance even for the Fiat Tipo revenue steadily in the first 5 bestsellers models by the Group.