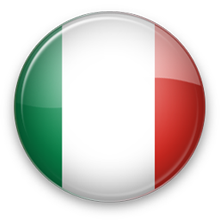 ITALY
POPULATION: 60,8 MLN

SOURCE:
UNIONE NAZIONALE RAPPRESENTANTI AUTOVEICOLI ESTERI (UNRAE.IT)
Immatricolazioni

Fiat, Lancia-Chrysler, Alfa Romeo, Jeep

in

ITALIA
---
Registrations

Fiat, Lancia-Chrysler, Alfa Romeo, Jeep

in

ITALY
---
Il mercato auto in Italia ha confermato nel 2017 il buon progresso dell'anno precedente e con 1.970.497 immatricolazioni è cresciuto del 7,9% sul 2016, restando però ancora ben lontano dalle vendite registrate nel 2007.
Il Gruppo Fiat Chrysler Automobiles, leader in Italia, ha fatto molto bene con i marchi Alfa Romeo trainata dal suv Stelvio (+24,6%) e Jeep in rialzo del 22,3% sul 2016 grazie alla buona accoglienza per la Compass.
Volkswagen, Ford e Renault guidano i competitors guadagnando immatricolazioni rispetto al 2016, così come Peugeot, Opel, Toyota, Citroen, Audi, Mercedes e Nissan.
La Fiat Panda è stato il modello più venduto nel 2017 in Italia, con più del doppio delle vendite rispetto agli altri modelli del Gruppo FCA, tra i quali spiccano i risultati della Lancia Ypsilon (al secondo posto), Fiat Tipo e Fiat 500. Interessante il debutto dell'Alfa Romeo Stelvio e della Jeep Compass.
The car market in Italy in 2017 confirmed the good progress of the previous year and with 1,970,497 registrations grew by 7.9% on 2016, but remains still far from the sales recorded in 2007.
The Fiat Chrysler Automobiles Group, leader in Italy, did very well with the brands Alfa Romeo driven by the SUV Stelvio (+24.6%) and Jeep up by 22.3% on 2016 thanks to the good reception for the Compass.
Volkswagen, Ford and Renault lead the competitors gaining registrations previous year, as did Peugeot, Opel, Toyota, Citroen, Audi, Mercedes and Nissan.
The Fiat Panda was the best selling model in 2017 in Italy, with more than double sales compared to other models of the FCA Group, among which are the results of the Lancia Ypsilon (in second place), Fiat Tipo and Fiat 500. Interestingly the debut of the Alfa Romeo Stelvio and Jeep Compass.